Johann Wolfgang von Goethe
Frankfurt 1749 - Weimar 1834


Johann Wolfgang von Goethe was born in Frankfurt on August 28, 1749. In his youth Goethe studied the usual school subjects Latin, Greek, French, Italian and Hebrew plus painting and music and wrote his first funny and devotional verses in the style of the time. In the fall of 1765 Goethe left Frankfurt and went to Leipzig as a student of jurisprudence. Rather neglecting his studies, he took drawing lessons instead and had lessons in copperplate engraving, woodcutting and etching techniques.
At the age of 17 he fell in love with Kätchen Schönkopf, daughter of his landlord, wrote poems and his first plays for the theater. Having split up with Kätchen, Johann Wolfgang von Goethe returned to his parents' house in Frankfurt in August 1768, where he devoted himself to reading mystical and natural philosophical texts.
In 1769 Goethe's first collection of poems was published. At the end of his studies in 1770 Goethe traveled to Strasbourg, where he met Herder. This encounter brought about an inner change for the young writer and determined the subsequent years. In 1771, after having received his doctorate in jurisprudence, he returned to Frankfurt, where he worked as a lawyer.
Most of his time was, however, dedicated to his literary ambition. In May 1772 Johann Wolfgang von Goethe went to Wetzlar for an internship at the Reichskammergericht and fell in love with Charlotte Bluff, a love which turned out to be unhappy and unreturned. When Goethe realized that Charlotte would not love him as hoped, he left the city hastily. Using the experience of this unhappy love, Johann Wolfgang von Goethe began work on "Die Leiden des jungen Werthers" in Frankfurt.

The book was published in 1774 and over night became the bestseller of its time. The scandalous act of suicide in particular made the book a symbol of protest. The great public reception of this novel made Goethe immediately famous. In 1775 Frankfurt Johann Wolfgang von Goethe got engaged to Anna Elisabeth "Lilli" Schönemann. When Johann Wolfgang von Goethe was invited to Weimar by Duke Carl August in 1775, however, he met Charlotte von Stein. He decided to stay in Weimar, was appointed privy legation councilor and took on numerous political and administrative duties. He broke off his engagement to Lilli.
The subsequent ten successful years of his career, including "Iphigenie auf Tauris", his appointment as privy councilor, heading the War and Highway Commission and his relationship with Charlotte von Stein, left their marks on Goethe. He suffered from a nervous disposition. After a rehabilitation spa in Karlsbad, Goethe secretly and under a false name traveled to Italy, where he stayed for 2 years. When he returned to Weimar in 1788, many of his friends turned their back on him and his relationship with Charlotte ended. Goethe began writing his famous "Faust". He met the young 23-year-old Christiane Vulpuis and fell in love with her. In 1789 she gave birth to their son August.
In 1797 he wrote his great ballads. Some days after Napoleon's occupation of Weimar, Goethe married his long-term companion Christiane Vulpuis. In 1806 he finished the first part of "Faust" and in 1809 his novel "Die Wahlverwandtschaften" was published. In 1831 he finally completed his life's work "Faust 2", a comprehensive poem on the world, which became the most impressive poetic work ever to be published in the German language.
Johann Wolfgang von Goethe sealed the manuscript with a note, saying that it must not be published before his death. Around noon on March 22, 1832, Goethe passed away at the age of eighty three.

Johann Wolfgang von Goethe
Das Roemische Carneval
666 $
Details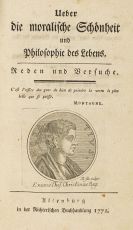 Sammelband mit vier Werken
777 $
Details